BOOK OF THE STARS trilogy by ERIK L'HOMME
When I was younger I used to go to the children's section of the library and pick any book that was about magic. This is how I discovered Book of the stars series which I was obsessed with. This is a story about a boy who lives on an island which was some time ago part of the known world but now is filled with magic. The boy finds out he can do magic which sends him on a journey to meet his teacher, learn how to use runes and solve a mystery of evil that threatens the world.
This book was written with great attention to detail – there are runes created just for this book, along with the way wizards use them. (I used to copy them all the time!)
2. EQUAL RITES by TERRY PRATCHETT (OR ANY OTHER BOOK IN THE WITCHES SERIES IN THE DISCWORLD SERIES)
Terry Pratchett was the funniest person in the world. I am sure of that although I have, sadly, never met him. You start reading one of the books in the Discworld series and it's enough, you can't stop, you're destined to collect them all until you die. They are that good. They are also the only fantasy books I can never get tired of.
The reason why I picked The witches for this meme is this – they are hilarious and they are smart and they are wonderful. I have never met a man who can write such amazing feminist characters. For example, I try not to do anything that Granny Weatherwax wouldn't approve. Pratchett often rewrites famous stories (including Shakespeare's plays) and makes them funnier and brighter and just great for readers of any age.
3. THE NAME OF THE WIND (THE KINGKILLER CHRONICLE) by PATRICK ROTHFUSS
Although the sequel is better by far, I have chosen the first book because it keeps you hooked from the beginning.
I didn't want to start reading this novel because I thought it's going to be a shameless Game of Thrones rip off (Kingkiller/Kingslayer?). I read my first GOT book when I was 12, 12 years ago and I've loved them since. The first time I saw this book was on a small book fair. I didn't want to buy anything, in fact, I had 10 euros exactly but then I saw this book and…It just happened. I bought it, I read it during a music festival, in a tent and I've been a fan ever since. My friend and I ordered the second book on Amazon the first possible day and I can't forget how happy we were when we saw it had almost a 1000 pages.
Kvothe tells a story about how he got to be where he is now and how he learned to use magic. When the story starts he's already a legend, hidden in the shadows but then he starts telling the story about his youth, his friends and his love. This is the best written story so far in epic fantasy genre. It's just amazing.
4.  THE LOLLIPOP SHOES or THE GIRL WITH NO SHADOW by JOANNE HARRIS
This is probably one of my favorite books of all times. This is also the second book of the series but I just couldn't bring myself to recommend the first one, that's how much better this one is. You've probably watched the movie Chocolat, with Johhny Depp and Juliette Binoche. I agree that that it's a great movie but it's really nothing like the book.
These characters are my favorite characters. I have loved Anouk more than any other character except Hermione. But this is a story about where the antagonist is someone you love more than any other character. Oh Zozie de l'Alba, how I love you.
This is a special kind of magic, the one you make in the kitchen and mix with chocolate. This is a story about love and friendship and the power of female magic.
I know that there are the first and the second part of the book and I liked them…enough. But The Lollipop shoes remains one of the best books about magic ever written and there's really nothing like it in the literary world.
5. SILMARILION by J.R.R.TOLKIEN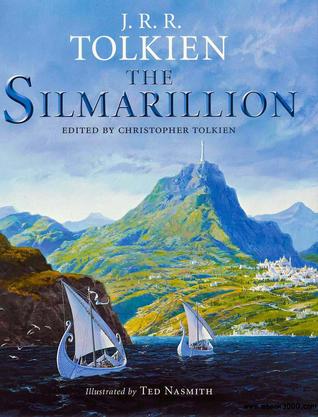 I've thought about the fifth recommendation for a long time but I've realised there's really no way to talk about magic without mentioning Tolkien. This is the prequel to The Lord of the Rings, in fact, these are the stories Tolkien wrote his whole life.
This is the story about how Middle Earth was created, the stories of first gods, half-gods and the first Kings of Men. If you're interested in Galadriel's or Sauron's story, if you want to know how Good and Evil came to the world, you should definitely read this book. It is a bit hard to read at first but many of the stories are so wonderful that there's nothing quite like them in the world.
---
So yeah, there are some books that made me want to read stories about magic. Of course, I love Harry Potter books more than any other but for this Halloween I wanted to write about some books that deserve more love and readers. I hope some of them inspire you to read like they've inspired me for so many years and I hope there are many many good books about magic written in the years to come.
*all pics are from the Internet