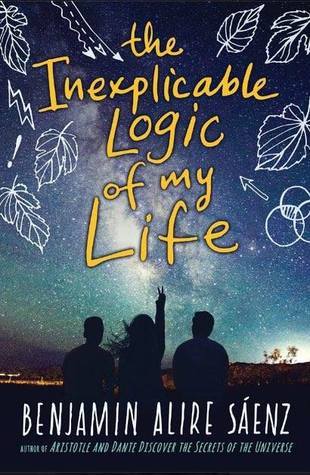 I wanted to read this book so badly that, after I got a free copy on NetGalley, I actually thought I was dreaming. The reason behind this is pretty simple: I am a big fan of this author's most famous work and, while I'm waiting for a sequel, I was more than excited to read something new by this author.
Short review: I loved it. Ari and Dante are still closer to my heart but I loved Salvador, Sam and Fito too.
Longer review after the read more. Serious spoilers too.
         ✷✷✷✷
We meet Salvador, the main character and the boy who's telling the story on his first day of senior year in high school. In the beginning you have a certain image about him – he's Mexican, he's really interested in school, he has a female best friend who's not very close to him lately and he has a great father. One by one these facts are revealed to be very different – he is a white boy adopted by a Mexican man, his relationship with school and the world is very complicated and Sam is the best friend anyone could wish for.
This book raises two main issues:
What makes a family?
Do we need love to survive?
Families that we find in this story are not traditional. The story is, like in Aristole and Dante set in El Passo where (as I found out reading books) there are many Mexican families but there is also a lot of racism against them. Salvador's father is an openly gay man, incredibly kind and yet again he's facing difficulties not many men could handle. Sam's mother is someone who can't express her love for her daughter the way Sam needs her to. Fito is an incredible boy, living in a family of drug addicts, making his way in the world completely alone. Fito is amazing. I would read a book about Fito any day.
Sally (short for Salvador) has an anger inside him that he cannot explain. Maybe it's his past and the fact that he never met his "real parents". Maybe it's the pressure that everyone faces in their final year – choosing college is often very close to choosing the rest of your life. Does he really need love of other girls? Does he really need to meet the man who was with his mother for some time and then left never to be seen again? What makes a family? Can a family be made of two? Can love be enough to  keep a family together? This is a novel that gives answers to those questions in a very thoughtful way.
This is a great read for all those teenagers who sometimes feel lost, when it feels like many things about their life are inexplicable. This is a great read for parents who don't know how to be kind when there are difficult times ahead. And this is a book for everyone who wanted to read about untraditional families which we need so much in the world as it is today. This is a book for anyone who needs a heartwarming story when the world around us feels like too much. God knows that we all need this kind of story today.
Number of pages: 464
Expected publication: March 7th 2017 by Clarion Books
*I received this book on NetGalley and gave it my honest review. Thanks for sharing!