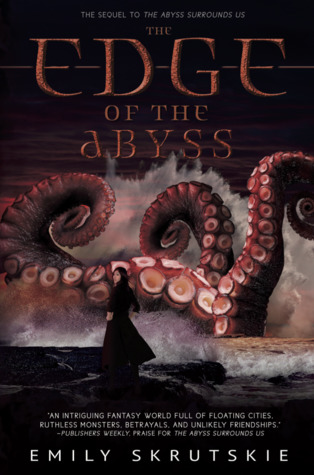 A couple of days ago I've written a post about "The Abyss Surrounds us" which is the first part of this duology. I've also recently read a review by a girl who has never read the first book and still understood everything. I agree with that. You can very well start with this book although you'd probably miss out on a lot of great character development. I still stand by what I've written when I finished the first book: this is a great book for lovers of fantasy, lesbians and those who really need some main non-white characters.
The second part is, as it always is, a darker story. It starts with Cas who already joined the pirate crew although she's fully aware that they've ruined her life and that she can't go back to how the things were. The captain, Santa Elena, is determined to use Cas' knowledge about the great sea monsters and Cas shows an amazing ability to manage everything and everyone in hard situations. Santa Elena sees that potential in her and Cas soon learns that she too can be ruthless. This is also the time for her to face her family who is aware of her betrayal.
Cas' relationship with Swift is also more complicated, given that Cas knows what Swift needed to do to stay in her position and be a captain one day.
I wanted to see more about the mainland but the majority of the story is again set on the ship. This time there is a lot more of action scenes and they are well written. We also get to know some other side characters better.
For those of you who were waiting to see more of the relationship development, I think you'll be very happy. Again, I've never seen an author talk about the importance of characters having the same footing before getting together and I'm happy that it was talked about once again.
I'm glad to have read this very original story and this part is a very satisfying ending.
I hope to read more from this author in the future.
Number of ebook pages: 320
Expected publication: April 18th, 2017 by Flux
*I received this book on NetGalley and gave it my honest review. Thanks for sharing!