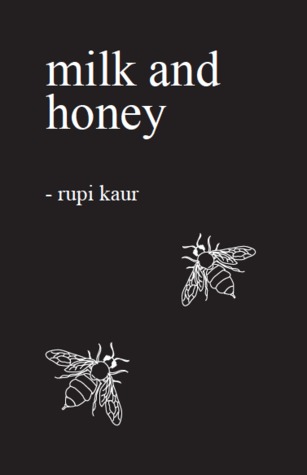 This is probably the most famous new book of poetry on the Internet, to be quite honest. Maybe it's the writing style – most of the poems are short and easy to remember, maybe it's because of the illustrations which are simple and yet they contribute to what is written or maybe it's just the theme – love and loss.
This is poetry written by a woman, for women. I don't think many men would enjoy it. The author  is a young woman of color who creates in the world where voices like hers need to be heard.
The book is smartly titled "Milk and Honey"reminding about two types of food known for their taste as much as their healing power. Milk and Honey are symbols of femininity, used in beauty products from the ancient times, silky and tasteful.
Much like the grieving process, the book is split into 4 parts:
the hurting
the loving
the breaking
the healing
It's a love story and it's a story of loss. You are reminded of the first day of love, how beautiful they are, how full of pleasure. And when that love is gone, what is left? Can a person be whole again?  Can a woman?
This is a book for those who recognize the feel of loosing someone. This is also a book for empowering women. This author is a great voice in this world and it should be heard.
Some poems are much better than the others, some look like a long sentence broken in pieces where it shouldn't be maybe. The poems are not always original but when you find the ones that speak to you you'll be thinking about them for a long time.
*Pics found on the Internet, I don't own them. Please support the author if you can.