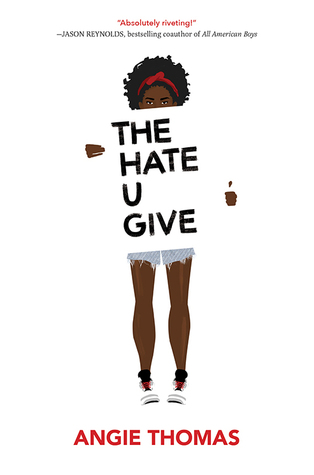 When you're not  American you probably learn a lot about Americans from news, movies and books. It's not like an European kid can understand what is like to to live in a racist American society. Europeans have a racist system of their own.
This is also how you learn about black kids being murdered. You get that information from white people who run the media. And you don't really understand anything.
Now this book is another story. It's a story about a black girl, written by a black woman, and it talks about violence against black people.
Starr is sixteen years old. We see things from her POV which is clever cause that implies trusting her completely to tell the events as they've happened. The whole story then becomes a report of events in an everyday life of a teenage girl but also her recollection of the event that changed her life.
One night Starr witnesses a murder of her childhood friend, an event that would terrify anyone, especially because Starr has already been trough a similar event when she was a child. Since Starr is the only witness of a murder, her whole life becomes important to the judge, in this case the judge is every reader too. We are invited to judge by listening to what this girl has to say about herself, her friends and family. This is how something that looks like pointless teenage chitchat in the beginning becomes incredibly important.
The writer makes a smart decision of making Starr come from a neighborhood where violence is an everyday thing, from a family that's related to criminal life. Who do you choose to trust? How important is for you, when an unarmed boy is killed by an older armed man, that the boy had a criminal past?
A pattern is a reliable sample of traits and acts of a person or group. What do you do when you notice a pattern in behavior of people around you? When people who are supposed to protect you fail you more than once? Do you stay quiet? These are the question this book tries to answer.
We all have something to learn from Starr.